12/07/13 17:56
This summer we have experienced two baptisms. This may not seem like much for many mission fields but for Europe it is exciting.

In the morning of 09 May 2013 I baptized a young man who attends our youth group. He goes to the Church of Christ in Brunswick (Braunschweig) but comes to our youth group because they do not have one. He has grown up going to church but he wanted to wait until he was at least 16 to be baptized.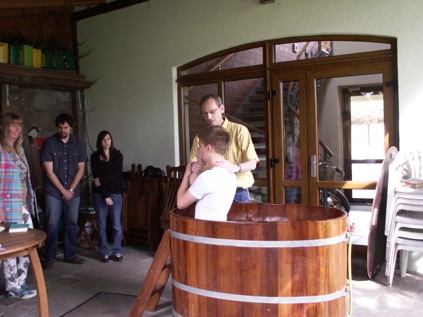 He wanted to be an adult. He also wanted it on the Ascension of Christ Day, a holiday in Germany.
We set the baptistery out on the patio and held the service out in back yard. The neighbors eating a late breakfast on their patio got to hear us singing. They probably thought it was an Ascension of Christ worship service. We praise God for his decision and that we have had a part in his spiritual growth over the years through youth group and camp.

On Wednesday the 10 July a woman came by to talk to me. Kirstin decided to be baptized. Yahoo! She came to us in 2008 and it has been a long process of God drawing her to Him and Satan pulling her the other way – Nothing more exciting than watching a spiritual tug-of-war taking place. So when she told me this morning the first thing I asked was about the Lordship of Christ. This has been a major problem area for the last couple of years. She has decided to give in and turn everything over to Him! He is the boss. The baptism took place on Friday the 12 July 2013 in the circle of friends.