02/06/15 14:38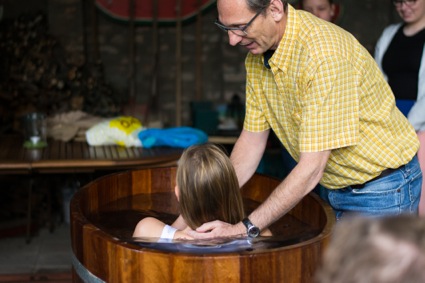 Christi Himmelfahrt (Ascension of Christ Day) is actually a church/religious holiday but most know nothing of the that meaning. It has now become Father's Day or Men's Day, when people take walks or ride bikes and quite often pull a little wagen behind them with beer in it. We use it for other purposes.
In the morning we had a baptism. I baptized a girl, Jubi, from our youth group. She attends the Church of Christ in a nearby city but comes to our youth group because they do not have one. At the Easter camp she made her decision. Two other girls from the youth group came and kids that she knows from church camp. So we had people here from 5 different churches. A sweet time of celebration and fellowship.
Then in the afternoon we had our annual softball game. Roehkasses and Bratchers from Hildesheim bring a group and then we have some from Peine and meet half way and use a soccer field. A German friend who loves baseball started this with us way back in 1993 and he finds a place to play every year. This year the Hildesheim group was very large so we had two games going at once. Of course we do not have all the equipment so we use a really soft softball (Chicago softball).
After the games the Peine people came to our place and were joined by some others who did not go to the softball game. We then had a BBQ. Jubi and her family were also there. So we started the day with a celebration and continued the day with good fun and fellowship.
For pictures click on the picture above to go to the album. Or click
HERE