22/06/15 14:38
Last week was crazy and we are glad God gave us the strength to get through. We taught an "Educational Vacation" – 5 days from 8am-4pm Beginners English. Workers can take an extra (on top of the normal 6 weeks) week paid "vacation" for educational purposes. Katy and I traded off mornings and afternoons but still with other tasks that we had, it was a lot - 8 hours total a day.
We also had 2 BBQs, Let's Start Talking Party, Game Evening, Men's hiking in the Harz Mountains, sermon writing etc.

On top of everything I have a tooth that acted up again. In three weeks I have been to the dentist 6 times. There was a cavity hurting – when that was fixed then the same tooth acted up and needed a root canal, then a re-root canal and then the filling fell out and then a re-re-root canal. Basically for three weeks I had tooth and jaw pain. I hope and pray that that is over.
I have also had a couple of good talks recently. In a break at our Educational Vacation, a man started asking me questions and so we were able to talk about God, the church and religion in society.

At the BBQ a woman with an atheistic upbringing asked me about the church and what I believe about God. She asked if I believe that God created the world in 7 days. I answered if he could not, what kind of weak God would he be. That led to more talk about God and then I asked about problems with evolution. She had no answers and I just replied that we both believed. You could see the gears clicking in her head – I think it was the first time she had ever been questioned about problems with evolution. She had more questions but the conversation was interrupted.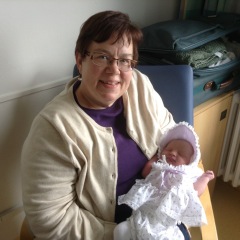 And the last big news is that our coworkers, David and Amanda, have a new baby daughter. Olivia Grace was born on Saturday. Mother and child are going great. Big brother is fairly uninterested in his sister but was very happy to come to us to eat pizza.