19/12/16 09:15
Randy has been teaching English in Peine since 1992 but has never had an official certificate saying he can teach English. He got into the VHS (Adult Education Center) way back when because he was a native speaker and he had a MA. More and more this is no longer sufficient. While at Katy's graduation, he was able to talk with the director of the TESOL program at Biola and she suggested that he take the Intro to Adult TESOL. After this intro class he could get a department certificate of TESOL. So Katy finished the Spring semester and Randy enrolled in the Fall semester. It was not easy finding the time. The program is challenging and he gained even more respect for Katy's 5 years of studying. Randy is now officially qualified to teach English. When he sent a copy of the certificate to his boss at the VHS, the boss remarked cooly, "I already knew you could teach English."
27/05/16 09:16
In May Katy finished her MA - TESOL (Teaching English to Speakers of Other Languages). She had worked on it for 5 years. It was a completely online program with Biola University. With modern internet technology it was amazing the contact she had with other students and the teacher. The students were scattered all over the world but mostly in Asia. Quite often we discussed the classes over lunch and so Randy profited also greatly from Katy's education.
We flew to LA so that she could walk and take part in the other graduation activities. She was the only online student able to attend. Most still were not finished with the semester where they were teaching some where in the world. We stayed with an high school buddy of Randy and it also so happened that Johannes from the Peine church was visiting LA and came to the ceremony. The weekend after the graduation we spent with a supporting church in LA which we had not been able to visit the last reporting trip. We then celebrated by driving a couple of days up the California Coast before flying to our parents.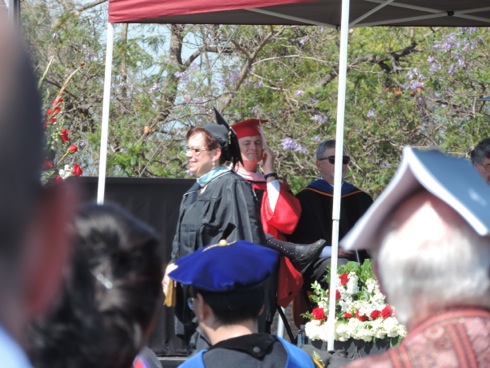 For more pictures click on the photo or
here