30/07/13 17:57
Summer Project


In April 1993 we got permission to translate Christian Standard Sunday School material. Back then it was quite a job to tranaslate, correct and cut and paste. Then we got a scanner and the graphics were much easier.

Over the years we have used this material for Sunday School and Tuesday Kids Club. We did 75 lessons, most with 2 worksheets and a take home double-sided page. We have used them 5 times and the church in Hildesheim has also used them for their Kids Club.
A problem has arisen, however, with computer and program updates. Microsoft Word cannot read old Microsoft Word documents. Some are okay some are messed up and some are nothing or garbled. The graphics we started using in 93 is no longer used by Microsoft so the pictures do not show up, just a big X. Some of the lessons were saved in a program that is no longer around and cannot even be installed on our new computer. What to do….?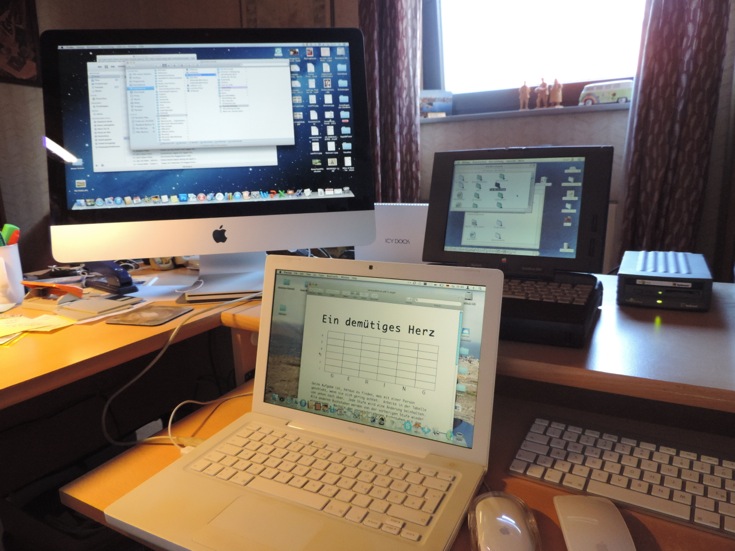 This summer's project has been to save all the material in an update-to-date manner. The old (2006) laptop still has not been updated for this reason and so the pictures had to be resaved as jpg from Quick Draw. Then they had to be reinserted into the worksheets and everything moved into the right position. Some of the fonts were no longer available so they had to be changed. Then everything was saved in .doc files and secondly as .pdfs. They were then put on a stick and moved to the main desktop computer.
Some of the material was saved in programs or in such old ways that the 2006 laptop could not open them. I then got out the old Apple 190 CS Laptop but it did not have the material on it and could not use a USB stick. So I went up to the attic and dug out the SyQuest EZ 135 MB Drive and all the monster SCSI cables and adapter. Then I had to figure out how it all worked. I found copies of the old material saved in 199? which had not been corrupted by the newer computers and opened them. I pulled the graphics out and had to save everything as simple text or jpg, then on to a floppy disk.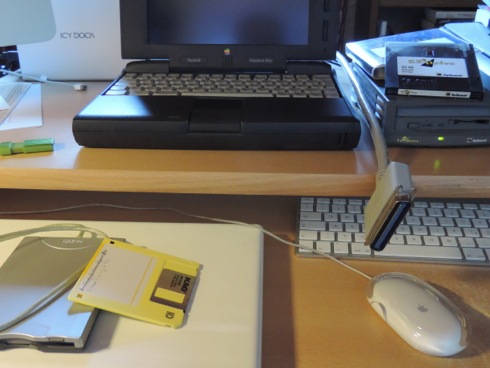 Where were the couple of floppies that I still had? I found them but then had to get out the external floppy drive for the 2006 laptop. Everything was transferred after several back and forths. Then I could put them together on the 2006; thereafter onto a stick and onto the desktop.
Everything is now saved and even got a copy of it all on the Cloud where it should now be safe and useful for a couple more years. And a side effect was that this summer project kept me off the streets and out of trouble. And it shows how up-to-date I am – got to stay up with that technology.